29 Settembre 2014 – La leggenda continua nel nuovo stravangante update di Plants vs. Zombies™ Garden Warfare, Legends of the Lawn. Completa la nuova gustosa modalitÓ Taco Bandits con un sacco di varianti di personaggi e una numerosissima offerta di oltre 200 personalizzazioni. L'aggiornamento Legends of the Lawn Ŕ disponibile per Xbox One, Xbox 360, PC, PlayStation 4 e PlayStation 3 a partire dal 30 settembre.
I giocatori potranno scegliere tra le sette nuove varianti di personaggi – Stella del Golf, Centurione, Scienziato Paleontologo, Cosa Masticosa, Fiore Alieno, Cactus Giada, Perito Netturbino – per buttarsi sul campo di battaglia di Legends of the Lawn. Inoltre, la nuova modalitÓ di gioco Taco Bandits recluta le Piante per difendere dalle grinfie degli Zombi, i deliziosi tacos alla griglia di Dave il Pazzo. Se ti schieri con gli Zombi, dovrai catturare tutti e tre i tacos e riportali all'UFO oppure proteggili se combatti con le Piante.
In aggiunta, i giocatori di PlayStation otterranno tutti i contenuti da Suburbination – l'update rilasciato ad agosto prima del lancio su PlayStation – con incluse la mappa Crash Course, la modalitÓ di gioco Suburbination e la variante di personaggio Sparasemi al Plasma.
Plants vs Zombies: Garden Warfare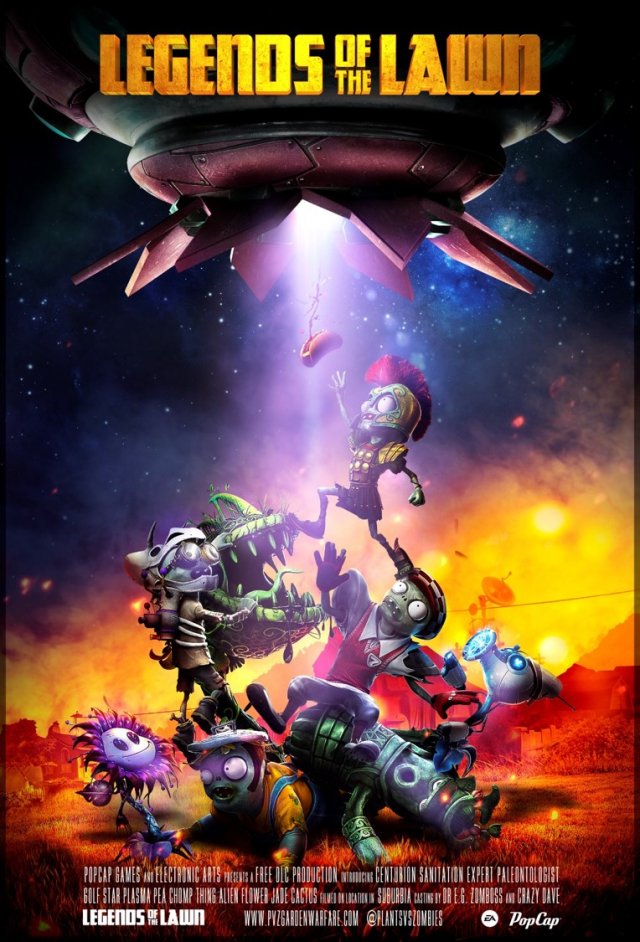 In Plants vs. Zombies Garden Warfare, i giocatori possono scegliere il lato con cui schierarsi e combattere per sconfiggere i rispettivi avversari, le Piante o gli Zombi, utilizzando un arsenale di armi bizzarre. I personaggi pi¨ amati e preferiti del franchise, inclusi il Girasole e la Sparasemi, si aggiungono al cast di folli personaggi.
Plants vs. Zombies Garden Warfare ora include sette distinte modalitÓ di gioco, tra cui il multiplayer "Tombe e Giardini", "Annientamento a Squadre", "Gnomba" e "Taco Bandits" e la modalitÓ cooperativa "Operazione Giardino".
Unisciti alla community di Plants vs. Zombies Garden Warfare su: https://www.facebook.com/plantsversuszombies e seguici su Twitter @PlantsvsZombies.
Per maggiori informazioni su Plants vs. Zombies Garden Warfare, visita http://www.popcap.com/plants-vs-zombies-garden-warfare. Per gli asset per la stampa, info.ea.com.